CALIBSUN

About us
About us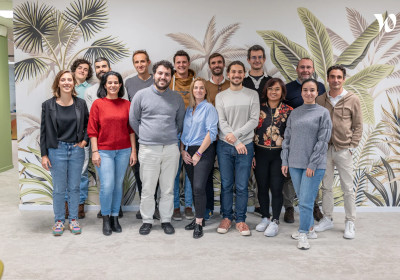 Innovative forecasts tools for energy transition
CalibSun enable the accelerating of photovoltaics with state-of-the-art solar power forecasts.
Our mission
Developing smarter tools to empower your decisions making processes
CalibSun is redefining the state of the art in solar resource analysis and understanding to provide optimized management services for photovoltaic (PV) power plants.
The launch of CALIBSUN, led by Benjamin Rodriguez (Director of Development), represents the culmination of 12 years of research conducted in partnership with the O.I.E (Observation, Impacts, Energy) laboratory at Mines Paris - PLS. CALIBSUN is also a member of the SciDoSol Chair (Data Science Applied to Earth Observation and Solar Energy for Energy Transition), conducting research on solar resource prediction and utilization to address the needs and challenges of energy transition, with the goal of maximizing the penetration of photovoltaic energy into the energy mix.
As such, the company offers three innovative and complementary state-of-the-art scientific and digital technology tools perfectly suited to the market. It assists players in the photovoltaic industry through CUBE (solar resource estimation), SKY (power drop detection), and NEXT (solar irradiance and energy production forecasts). CALIBSUN enables the secure investment in new projects, optimizes the operation of photovoltaic plants by maximizing revenues, and enhances storage management.
Our vision
Anticipating the transition of photovoltaics from a subsidized economy to a market economy regulated by supply and demand, CALIBSUN's founders conducted 12 years of research with the O.I.E (Observation, Impacts, Energy) center at the Mines Paris - PSL school.
Thanks to this partnership combining photovoltaic and meteorological expertise, CALIBSUN has developed artificial intelligence algorithms for forecasting sunshine and electricity production from photovoltaic power plants. The company offers three strategic tools - CUBE, SKY and NEXT - that improve the technical and financial management of ground-mounted photovoltaic power plants, meeting the challenges of profitability, economic viability and grid integration to maximize the penetration of solar energy in the global energy mix.
"CALIBSUN is a irradiance and photovoltaic production forecasting toolbox for the energy industry. CUBE is used to select and validate the best sites, SKY to anticipate local weather conditions, and NEXT to accurately forecast sunshine and therefore energy production."
- Nicolas Thévenin, co-founder of CALIBSUN.
History
15 years' experience in photovoltaics
A Solaïs subsidiary benefiting of 15 years expertise in photovoltaics
CALIBSUN was founded in 2023 by Sébastien Pitaval and Nicolas Thévenin, the founders of SOLAÏS, a company with over 15 years of expertise in photovoltaics and a leader in glare studies enabling the installation of solar power plants near sensitive areas such as airports, railways, roads, or urban zones.
Would you like having an exciting career in energy?

An team of expert to devise tools dedicated to solar energy market players
The CalibSun team brings together experts in solar energy, meteorology, data science, and artificial intelligence who have successfully leveraged meteorological data and satellite image processing to serve the energy transition.