CUBE : estimate site's yield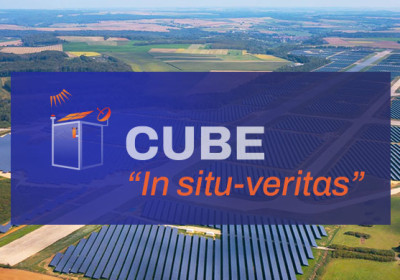 More accurate solar potential estimation
"In-situ Veritas"
Ensuring the economic viability and profitability of your photovoltaic projects.
CUBE : Validating your site's potential
Des campagnes représentatives pour un Yield report plus fiable
The Yield Report quantifies the expected production for a given site. It presents the P50 and P90 values of production, detailing the variability and uncertainty associated with each characteristic (sunlight, temperature, soiling). It forms the basis of the economic model for projects and is a key element for investors, banks, and stakeholders (experts, technical advisors, etc.). The P90 is the reference value for banks to size the debt, so the higher the P90, the greater the borrowing capacity for the developer. The P50 allows investors to assess project profitability.
Therefore, it is essential to minimize the gap between estimation and reality as it can be particularly detrimental in the medium to long term. That's why CALIBSUN has designed a measurement cabin to conduct representative year-long campaigns and developed an innovative calibration algorithm capable of eliminating systematic errors in satellite data history to obtain P90 and P50 values that are as close to reality as possible.
Obtaining a Robust P50 and Maximizing P90
With our ready-to-use measurement cabin, we ensure a year-long measurement campaign in parallel with the impact study to calibrate satellite databases. You will obtain a Typical Meteorological Year (TMY) with reduced uncertainty, ranging from 0 to 0.5%.
Consideration of Local Weather Phenomena
Reduces risks and secures the investment.
Fine-tuning the P50 and reducing the P50/P90 ratio
Qualifying your site's solar resource as closely as possible is the cornerstone of the long-term robustness of your economic model. With a representative annual forecast for one year and a refined P50 and P90 Yield Report, you ensure the economic viability of your project.
Optimizes financing conditions
Secures the investment and maximizes project valuation
Eliminate systematic bias and reduce uncertainty
Since the profitability of a photovoltaic installation is all the more significant when the debt/equity ratio is high, even a minor improvement in P90 can result in gains of several hundred or even thousands of thousands of euros for larger projects.
Uncertainty is reduced from 3% to 0.5%
The P90/P50 ratio is reduced by about 1.5%
Substantial gains or avoided losses.
FAQ
Learn more about the estimation of solar potential for a future PV plant site's
Why using CUBE makes a real difference ?
How is solar resource calibration done?
Why is it important to calibrate satellite databases?