SKY : on-site cloud detection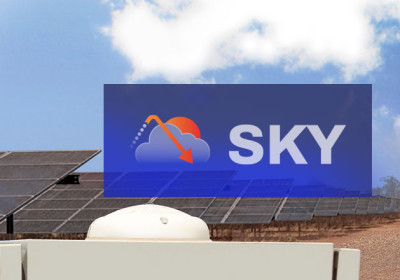 On site cloud detection to anticipate solar power drops
Ideal for isolated sites and hybrid installations with or without storage.
Detection for isolated sites
SKY detects cloud formations very accurately in space by modeling them in 3D to anticipate their impact on the photovoltaic installation. The service informs the EMS (Energy Management System) to activate alternative sources (batteries, generators, etc.) necessary to maintain industrial activity and maximize the penetration of photovoltaic energy.
SKY models clouds to anticipate shading on PV panels.
Cutting-edge digital technology to anticipate shading and the drop in photovoltaic energy production.
Since PV production is variable and directly linked to available solar resources, it can experience significant drops in production during local cloud cover. In the case of an industrial site powered by a solar plant, it is essential to predict short-term variations in PV production to reactively anticipate the activation of alternative energy sources.
CALIBSUN installs a network of several hemispherical cameras at strategic locations within the photovoltaic plant. These cameras capture real-time images of approaching cloud cover that may not have been detected by satellite imaging or on-site sunlight sensors (also known as irradiance sensors). This data is transmitted to algorithms that use artificial intelligence to determine the speed, altitude, and shape of the clouds to simulate shading and deduce the timing and intensity of the drop in photovoltaic energy production.
Detection and Forecasting
Combining forecasting tools to optimize PV operation.
The NEXT and SKY forecasting tools are complementary in the case of isolated photovoltaic installations, with or without storage. By estimating energy production probabilities across various time scales, the NEXT and SKY forecasting services enable the Energy Management System (EMS) to anticipate over all time horizons.
Combining forecasting tools to optimize PV operation :
Long-term forecasting: Prepare the daily operation plan for day J+1.
Short-term forecasting: Anticipate the activation of alternative sources.
Detection of power reductions: Qualify the duration and intensity of shading.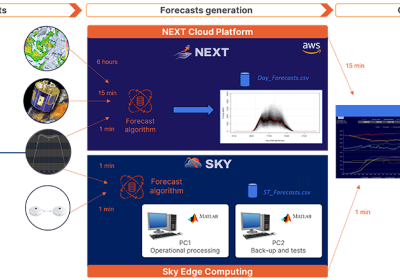 FAQ ?
What is cloud detection for?
Why does cloud detection require observation cameras?
How does cloud detection improve the use of solar energy production?
How can cloud detection be integrated into solar energy management systems?